Prelims-IAS –ECONOMICS MCQ Ans-29
QUESTION- Prelims-IAS – ECONOMICS MCQ-29
https://www.gurukulkendra.com/?p=3000
1..
ANS-A
The Kuznets curve is a hypothetical curve that graphs economic inequality against income per capita over the course of economic development.
Simon Kuznets hypothesized that as an economy develops, market forces first increase then decrease the overall economic inequality of the society, which is illustrated by the inverted U-shape of the Kuznets curve.
The environmental Kuznets curve is a hypothesized relationship between environmental quality and economic development: various indicators of environmental degradation tend to get worse as modern economic growth occurs until average income reaches a certain point over the course of development.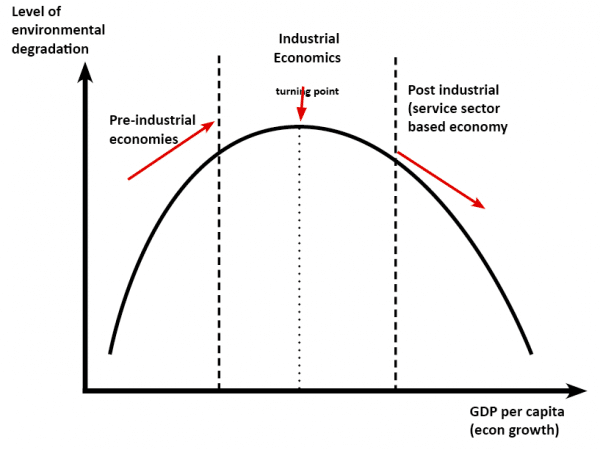 ---
2..
ANS-D
Foreign Institutional Investor (FII) means an institution established or incorporated outside India which proposes to make investment in securities in India.
However, FII as a category does not exist now. It was decided to create a new investor class called "Foreign Portfolio Investor" (FPI) by merging the existing three investor classes viz. FIIs, Sub Accounts and Qualified Foreign Investors.
As per Section 15 (1) (a) of the SEBI FII Regulations, 1995, a Foreign Institutional Investor (FII) may invest in the securities in the primary and secondary markets including shares, debentures and warrants of companies unlisted, listed or to be listed on a recognized stock exchange in India. In fact FIIs are very active in the over the counter (OTC) markets and in the IPO market in India.
To some extent this notion is true and is emphasized in policy documents. For instance, consolidated FDI Policy of Department of Industrial Policy and Promotion (DIPP) states that "foreign Direct Investment, as distinguished from portfolio investment (FII), has the connotation of establishing a 'lasting interest' in an enterprise that is resident in an economy other than that of the investor".
---
3..
ANS-C
Disguised unemployment exists where part of the labor force is either left without work or is working in a redundant manner where worker productivity is essentially zero. It is unemployment that does not affect aggregate output.
An economy demonstrates disguised unemployment where productivity is low and where too many workers are filling too few jobs.
In India, it is most seen in the agriculture sector with more than 50% of employment and a contribution of about 19% to the GDP.
---
4..
---
5..
Foreign Investment in Defence Sector up to 100%: Present FDI regime permits 49% FDI participation in the equity of a company under automatic route. FDI above 49% is permitted through Government approval on case to case basis, wherever it is likely to result in access to modern and 'state-of-art' technology in the country.
Teleports (setting up of up-linking HUBs/Teleports), Direct to Home(DTH), Cable Networks (Multi System operators (MSOs) operating at National or State or District level and undertaking upgradation of networks towards digitalization and addressability), Mobile TV and Head end-in-the Sky Broadcasting Service(HITS) have 100% FDI via automatic route.
Pharmaceutical: The extant FDI policy on pharmaceutical sector provides for 100% FDI under automatic route in greenfield pharma and FDI up to 100% under government approval in brownfield pharma.
Civil Aviation Sector: (i) The extant FDI policy on Airports permits 100% FDI under automatic route in Greenfield Projects and 74% FDI in Brownfield Projects under automatic route. FDI beyond 74% for Brownfield Projects is under government route. (ii) With a view to aid in modernization of the existing airports to establish a high standard and help ease the pressure on the existing airports, it has been decided to permit 100% FDI under automatic route in Brownfield Airport projects.
Animal Husbandry: As per FDI Policy 2016, FDI in Animal Husbandry (including breeding of dogs), Pisciculture, Aquaculture and Apiculture is allowed 100% under Automatic Route under controlled conditions. It has been decided to do away with this requirement of 'controlled conditions' for FDI in these activities.
Private Security Agencies: The extant policy permits 49% FDI under government approval route in Private Security Agencies. FDI up to 49% is now permitted under automatic route in this sector and FDI beyond 49% and up to 74% would be permitted with government approval route.
---